Overview
In the Fall of 2021, CommerceHealthcare® sponsored a focused survey conducted by the Health Management Academy (HMA), an organization for executives from the nation's top health systems and leading companies. The HMA survey involved both quantitative polling and in-depth telephone interviews to explore current issues in patient financial experience.
Key characteristics of the respondent profile included:
Finance and revenue cycle management (RCM) executives from director to C-level.
Representation from 13 unique health systems that own or operate a total of 196 hospitals.
Aggregate volume of 1.6 million inpatient and 32 million outpatient admissions annually.
Average operating revenue of $5.7 billion, with 38% from large health systems (greater than $6 billion), 15% medium ($4–6 billion), and 46% small (under $4 billion).
Combining the findings of this survey with relevant independent data, CommerceHealthcare® has produced a three-part series of briefs titled Perspectives on Patient Financial Experience. This report explores current roadblocks to financial experience improvement and proposes four strategies to maintain progress.
Improving patient experience, an important objective
Improving the complete patient experience, including the financial component, has become a mission for health systems, hospitals and practices. The effort has gained greater currency as patients increasingly demand the convenience and efficiency they experience in their other consumer encounters. As one study observed, "When patients evaluate their overall satisfaction with a healthcare brand, they consider every touchpoint in their journey."1
Today's principal challenges
While providers have made great strides on the patient experience front, most acknowledge that pandemic effects and other market forces have complicated the ability to maintain consistent emphasis on these initiatives. The HMA survey captured the chief barriers (Figure 1).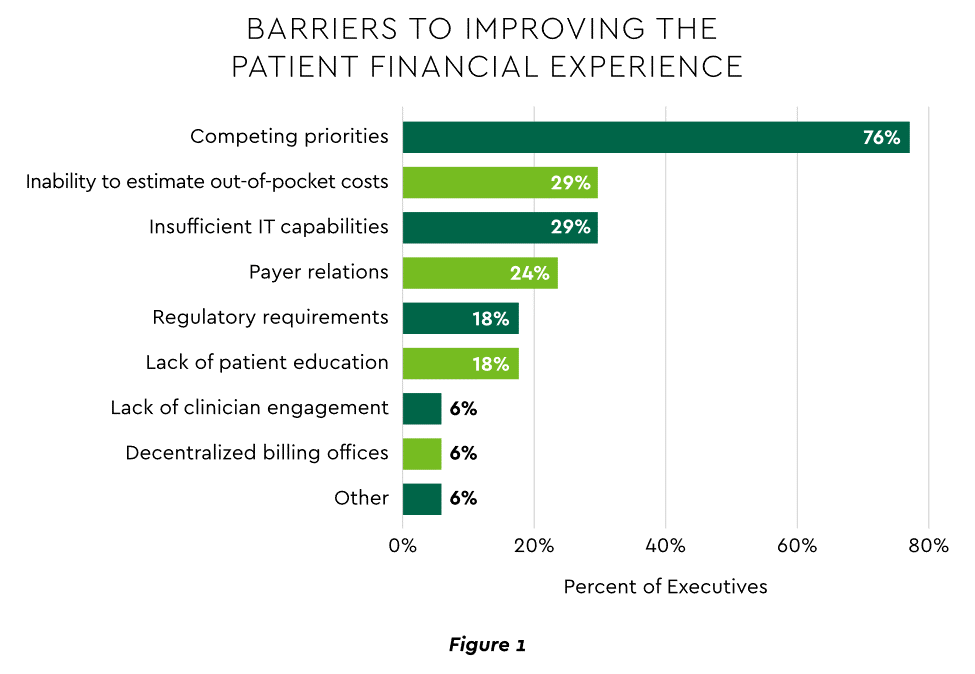 View PDF of Figure 1 chart[PDF]
The finding that 29% of providers struggle with estimating costs prior to care is a growing RCM issue. In a recent consumer survey, 44% of respondents said they have avoided care because they did not know the costs in advance — 63% among ages 18 to 34.2 "Payer relations" barriers include prior authorization delays and errors, which one executive characterized as leaving patients "stuck in the middle."
Competing priorities
Figure 1 clearly shows "competing priorities" weighing most heavily on patient financial experience objectives. One VP in the HMA survey summarized the predicament: "We would like to be further along, but it's been hard to prioritize…we want to do so many consumer-focused things." Three major claims on leadership attention are complicating patient experience efforts.
Workforce shortages and staffing constraints
The pandemic deepened clinician burnout and staffing problems. In a mid-2021 poll, 69% of executives indicated that nursing shortages had worsened from the previous year, and 32% cited shortages of behavioral and mental health providers.3 The pandemic left 57% of nurses feeling burned out most days.4 A recent RN survey saw 29% stating they were likely to exit direct patient care.5 These problems threaten both growth recovery and safety. Clinical staffing shortages and workers' mental health topped the 2022 list of patient safety risks.6
Shortages are not confined to clinical staff. Coding and revenue cycle experts are in demand.7 Hiring mid- to senior-level revenue cycle talent has been estimated to require from 153 to 207 days on average.8
Recovery of revenue and profitability
Leaders remain heavily focused on regaining volume and profits lost during the pandemic. This year's CommerceHealthcare® Trends report documented the uphill climb:
Industry net income loss in 2021 has been calculated at $54 billion, and over a third of hospitals had negative operating margins.9
Discharges in 2021 were down from 2019 levels.10
Under 30% of primary care practices characterized their 2021 status as "financially healthy."11
The pressures are not abating. A recent analysis pointed to a combination of delayed elective procedures, higher acuity patients, and elevated costs and concluded, "The first four months of the year have been highly challenging for hospitals and health systems … many will still end up with substantially depressed margins at year's end."12
Capital investment and allocation difficulties
Current economic conditions make underwriting capital investments in patient financial experience more challenging. A survey of healthcare CFOs found 18% stating they must cut or defer spending on "technologies aimed at advancing the digital revamp of business processes and efficiency."13 Many providers will need to take a step CommerceHealthcare® advises: a comprehensive enterprise investment analysis examining all short- and long-term opportunities to enhance returns.
Recommendations
There is a pathway to propel patient financial experience forward amid these competing priorities. Four actions can be distilled from both the HMA survey and CommerceHealthcare® experience.
Aggressively pursue RCM automation
Significant opportunities exist to automate RCM processes. Analysts believe healthcare could save over $13 billion through widespread electronic financial transactions.14
Fortunately, cost-effective, easy-to-implement, proven automation solutions are available in accounts payable, patient financing, receivables management, and electronic payments. These products and services drive improved patient financial experience through:
Cost savings and enhanced workforce productivity. Those gains can free up funds to devote to patient experience and permit staff to focus on customer-facing activities.
Heightened patient convenience.
Efficient delivery of more options for patients.
As a leading industry research firm summarized, "Deploying automation to improve experience yields holistic returns."15
Partner to "go bigger" on patient financing
Helping patients manage care costs contributes greatly to satisfaction. The HMA survey concluded that health systems "need to increase adoption of payment plans." Many providers struggle to expand internal financing programs and are increasingly turning to outside financial institutions to help. About one-quarter of HMA survey respondents have created such partnerships (Figure 2).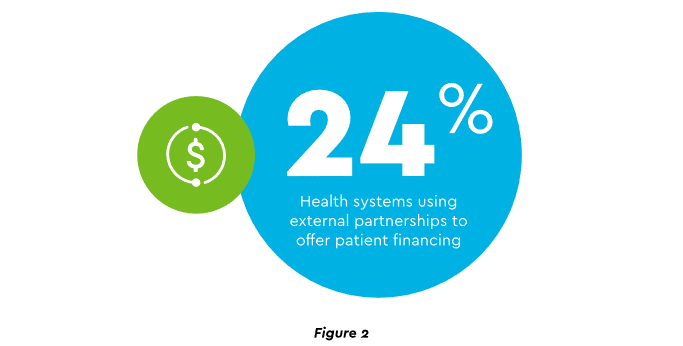 View PDF of Figure 2 chart[PDF]
A strong bank with healthcare knowledge and experience can formalize a provider's financing program and substantially increase the volume of financing offered. Commerce Bank has financed more than $1 billion dollars of patient loan volume. Equally critical to success, program flexibility can be maximized. Lines of credit can be extended pre- or post-service and for durations that create comfortable monthly payments for patients. The credit lines can also accommodate subsequent care costs without requiring a new approval cycle.
Encourage marketing and finance integration
The trend to patient consumerism has given rise to chief experience officer and similar senior positions. The HMA report highlighted a related strategy of integrating marketing and finance perspectives. Figure 3 shows who is leading financial experience efforts. Revenue VPs predominate, but marketing executives are playing key roles.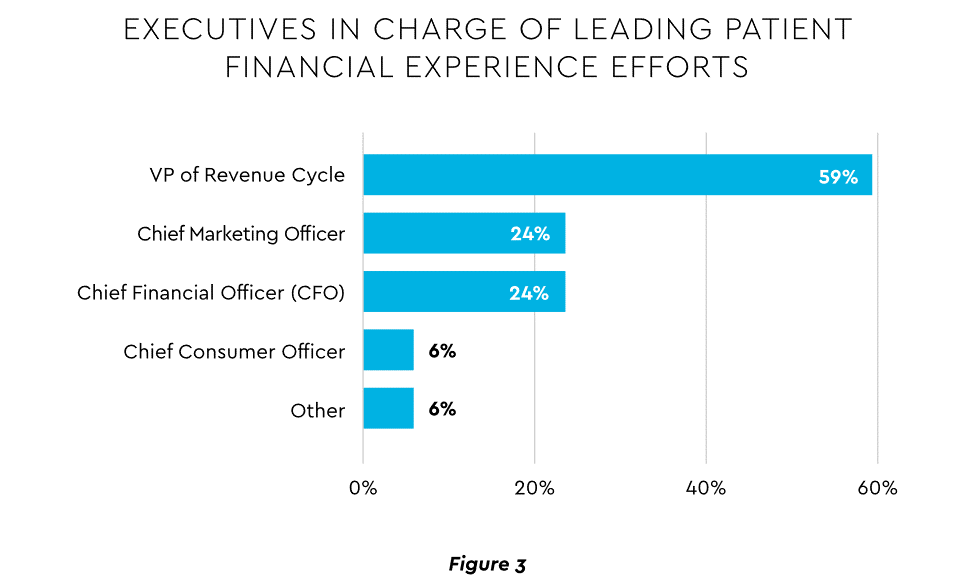 View PDF of Figure 3 chart[PDF]
The report suggests that "VPs of Revenue may be more likely to prioritize consumer-focused initiatives," and that "executives of varying roles will need to share responsibility for the patient financial experience."
Build on successes
The concentration on enhanced patient financial experience has generated notable successes. While the current barriers may slow some initiatives, momentum can be sustained on many of them. Relevant positives to build on include:
Digital tools. During the pandemic period, 60% of providers undertook new digital projects.16
Consumer trust. A recent survey showed that consumers place high or very high trust in providers: 75% for primary care physicians, 66% for specialty care physicians and 58% for hospitals/clinics.17 Trust forms a solid foundation for improving financial experience.
Patient education. The HMA findings highlighted success in educating patients regarding billing and payment obligation (Figure 4).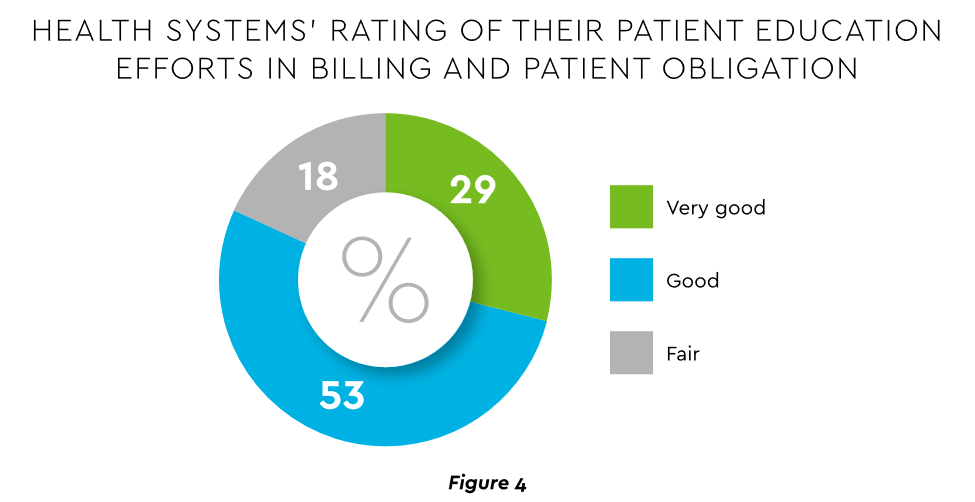 View PDF of Figure 4 chart[PDF]
Providers should identify those success points where they can "double down" and target progress even within current constraints.
Conclusion
The HMA survey confirms the myriad challenges leaders face on the road to patient financial experience success. The report also conveys actionable recommendations to maintain progress. The stakes are too high to relinquish the gains achieved.
CommerceHealthcare® solutions are provided by Commerce Bank.
Disclosures:
Press Ganey, Consumer Experience Trends in Healthcare, 2021.
Healthsparq, 2022 Annual Consumer Sentiment Benchmark Report, May 2022.
Healthcare Financial Management Association, "Survey: Hospitals And Health Systems Prioritize Automation," August 2021.
AMN Healthcare, 2021 Survey of Registered Nurses, October 21, 2021.
McKinsey & Company, Assessing the Lingering Impact of COVID-19 on the Nursing Workforce, May 2022.
ECRI, Top 10 Patient Safety Concerns 2022, March 14, 2022.
Healthcare Financial Management Association.
Akasa, No Resignation: Solving Today's Greatest Staffing Challenges in the Healthcare Revenue Cycle, January 26, 2022.
American Hospital Association and Kaufman Hall, Financial Effects of COVID-19: Hospital Outlook for the Remainder of 2021, September 2021.
Kaufman Hall, National Hospital Flash Report, October 2021.
Primary Care Collaborative and the Larry A. Green Center, Quick COVID-19 Primary Care Survey, Series 30 Fielded August 13-17, 2021, September 2021.
Kaufman Hall, National Hospital Flash Report, May 2022.
Black Book Market Research, "Black Book Announces 2022 Top Client-Rated Financial Solutions Delivering Digital Transformation and Managing Liquidity," press release, June 4, 2022.
CAQH, 2020 CAQH Index, 2021.
Advisory Board, "Maximizing the Value of Investments in Automation," June 23, 2021.
BDO, 2021 Healthcare Digital Transformation Survey, 2021.
Healthsparq, 2022 Annual Consumer Sentiment Benchmark Report, May 2022.