Numerous opportunities and challenges face the healthcare industry as it enters 2019. From innovative new payment models to consumerism and patient experience, several trends will exert great influence on the financial direction of healthcare organizations over the year. The 2019 Financial Trends Report, by CommerceHealthcare®, combines extensive research with market and financial insight to identify six themes that will inform planning for 2019 and beyond.


Healthcare Costs, Value-Based Models Remain Challenges
Systematic cost reduction continues to be an intense focus for everyone from the federal government to individual providers. Pressure is building to hasten the transformation from fee-for-service to value-based approaches. Key considerations:
National spending. CMS placed spending growth at 3.9% in 2017. The good news is that the figure is down from 4.8% the previous year, but still north of the inflation rate. The decrease resulted principally from slower growth in prescription drugs, hospital care and physician services. On the non-acute side, nursing/continuing care expenditures grew only 2% compared to 3.1% in 2016. Looking ahead, CMS projects annual spending growth of 5.5% through 2026.1
Cost drivers. Myriad factors fueling increasing medical costs make the issue challenging. Demographics are a major force. Baby boomer aging will triple the population over 65 by 2030. Six of every 100 boomers will have more than one costly chronic disease. Commonwealth Fund identified three additional areas where the U.S. spends heavily: pharmaceuticals, physician income, and healthcare administration.2
Alternative payment models. S&P sees the shift away from traditional fee-for-service "gaining traction in 2019," creating "a major disruption."3 An estimated 34% of reimbursements were from alternative payment models in 2017, up 17% from 2016 and 50% from 2015.4 CMS's Bundled Payments program launched in October with 1,500 hospitals and groups participating. Healthcare organizations continue to pursue many avenues on the path to value-based care as Figure 1 displays.5
Margin pressure. Hospital operating margins will be under pressure in 2019. While it sees positives on cash flow and balance sheet leverage metrics, Fitch believes new payment models represent an "attack on pricing power."6 Both Fitch and S&P maintain stable 2019 ratings for non-profit hospitals, but both also anticipate more downgrades than upgrades. S&P pegged that ratio at 3:2 in 2018.7




Rising Consumerism Intensifying Focus on Patient Experience
Increases in high deductible health plans (HDHP) and individual out-of-pocket expenses are heightening patient sensitivity to the costs of care. Coupled with new market alternatives and technologies, the changes are fostering a rise in consumerism.
HDHP. More than 40% of consumers now have this type of plan.8 Enrollment in 2017 stood at just under 22 million people, up from only 4.5 million a decade ago.9
Consumer-centricity top priority. In a recent survey, 40% of leaders named consumerism as the most important current disruptive force in healthcare.10 Improving the customer experience is one of the "top priorities to fuel growth next year" for health insurers.11 Technology forecaster IDC asserts: "Driven by rising consumer expectations, 60% of healthcare providers will make optimizing the digital patient experience a top 3 strategic imperative by 2020."12
Care anywhere. Providers are working to offer what is termed an "omnichannel experience" in which patients can seamlessly interact with the system through various means (phone, mobile devices, video, etc.) and locations. More care access points are opening to offer convenience, reduce cost and increase utilization. For example, one-third of large employers and 16% of mid-size firms have an on-site or near-site clinic.13
Price transparency. Wanting more transparency, 91% of consumers would like pricing information ahead of care and 46% desire greater cost knowledge to budget for out-of-pocket expenses.14 CMS has mandated that hospitals publish their standard charges starting in 2019. Achieving clarity is challenging since insurer payments and varying individual plans mean that list prices do not typically equate to patient payment. Hospitals are looking to IT systems and revenue cycle partners to help provide and communicate accurate cost estimates.
Patient financing. Many patients are struggling with greater payment responsibility. An Advisory Board study found that propensity to pay decreased steadily with increased deductibles, plunging from 68% for a $500 to $999 deductible to just 36% for levels over $5,000.15 To mitigate the problem, many providers are turning to patient financing plans. Programs such as interest-free extended payment options have been shown to reduce bad debt. Additionally, plans managed by third-party financing institutions that feature upfront funding help organizations accelerate cash flow, increase collection rates, lower total servicing costs, and reduce cost of capital.


Government Regulations Dominate Planning Landscape
Government regulations and initiatives regularly top annual lists of executive concerns. One study estimated that health systems, hospitals and post-acute providers must meet 629 regulatory requirements across nine domains at an average cost of $1,200 per admission and requiring 59 FTEs.16 There are three primary regulatory forces to watch for 2019:
Medicare reimbursement and fee structure. The physician fee schedule conversion factor will increase from $35.99 to $36.04. New billing codes are being added to reimburse physicians for remote patient monitoring, certain telehealth services and streamlined documentation. On the MIPS side, eight new quality measures are introduced – some based on outcomes reporting from patients – and 26 measures are removed. While seemingly modest, these changes evidence fresh efforts to incentivize value-based programs. Some analysts have labeled the enhancements a "sea change" and "far-reaching" since private payers often follow Medicare's lead.17 CMS also announced a 6% Medicare Advantage premium decrease for 2019 to promote access and affordability.
ACA. Uncertainties continue to surround aspects of the ACA. Key forecasts for 2019 include:

Increasing regulatory complexity as the states "will be able to advance health reforms far more easily than the federal government … and take divergent paths to either stabilizing or segmenting the ACA marketplaces."18
Potential increases in the uninsured and underinsured due to elimination of the individual mandate penalty, more restrictive non-ACA-compliant health plans, and Medicaid work requirements.19

Drug prices. Drug costs have become a high-profile issue. In part, this attention is due to findings that 80% of the public perceives prescription drug costs as unreasonable.20 Lawmakers are questioning manufacturers about price increases and investigating the role pharmacy benefit managers play in the pricing chain. The Food and Drug Administration is responding by promoting price-lowering competition through streamlined regulations for generics and new medicine approvals. Exacerbating the problem is the 30% cut in 340B Medicare payments relied upon by smaller hospitals and those serving economically vulnerable patients to help alleviate high medication costs.


Expect Further Digital Transformation
A digital transformation is under way that promises to alter the way care is delivered. One leadership poll named three of its top 10 issues for 2019 as technology-related, including the need to become "digital healthcare organizations."21 Another showed that 62% strongly agree that "organizations need to play an active role in developing new technologies to effectively drive transformation."22

The technologies most likely to see substantial investment in 2019 include:
EHRs. Electronic health record systems have achieved near-universal adoption in the U.S., and forecasts suggest a centralized European records system will exist in several years. EHRs are evolving to address two current concerns:

Interoperability so that different systems can freely exchange information. Vendors are joining data sharing consortia such as Sequoia Project and CommonWell and adopting open standards like CCD.
Physician frustration. A recent study found that 70% of physicians using an EHR experienced stress as result of the IT usage, and many reported feelings of burnout.23 Software is being designed to minimize physician data entry and add greater value to their caregiving.

Data analytics and AI. Leveraging technologies such as machine learning and natural language processing, healthcare organizations are mining increasing amounts of clinical, claims and other data to extract insights that are informing care decisions, improving efficiency and reducing costly variation. Frost & Sullivan predicts the global AI market will grow annually at 68.5% to reach over $6 billion by 2022.24 IDC forecasts that AI adoption will impact 25% of healthcare business processes by 2020.25 Heavy hospital investment is under way, with 94% planning to implement AI over the coming five years at an estimated average of $32.4 million each.26 A major focus will be exploiting the potential of predictive analytics. Figure 3 shows very high adoption and expected cost savings from the technology.27


Internet of Medical Things (IoMT). This technology encompasses a range of Internet-connected sensors and devices that offer new realms of remote patient monitoring to ensure medication adherence, track vital signs, deliver reminders/ alerts and more. A particularly exciting development is wearable and body sensor technology, currently an estimated $6.8 billion market.28 Forecasts suggest 27 million smart clothing units and 92 million body sensors by 2022.29
Cybersecurity. Healthcare organizations suffered 344 data breaches in 2017.30 Little wonder, then, that security is an urgent 2019 priority. One report put cybersecurity among the top three health IT concerns, with several findings:

Only 20% of IT leaders are "very confident" in the ability to recover from attacks.
87% will increase 2019 cybersecurity spending.
62% believe staff to be the greatest security weakness.31



Blockchain. 2019 may see progress on blockchain technology. IDC sees usage increasing eightfold over the next four years. Many believe it can transform revenue cycle management through secure distributed ledgers and "smart contracts and processing" that enable:

Real-time claims administration, settlement and payment
Robust information sharing to reduce claims denials
High transparency for patients

Revenue cycle automation. Automation of the revenue cycle is occurring in areas such as claim denial management, remittance systems and file-splitting for reconciliation reporting. Application of robotic process automation and AI technology to the revenue cycle is also gaining momentum. Promising significant benefits in efficiency, financial results and patient experience.


Consolidation, Competition, Disruption
Myriad forces have led to significant consolidation, taking the form of hospital mergers, acquisition of physician groups and partnerships that expand service lines. Two-thirds of community hospitals are now in either a multihospital or a diversified single hospital system.32 Several drivers for this activity have been advanced, from protection of market share to greater contract negotiating power to the broader demands on organizations made by population health management. Look for these directions in the year ahead:
M&A. The trend will continue, though some suggest that the pace of M&A may abate. A survey of healthcare executives and investors revealed that 58% anticipate the same or lower activity in 2019.33
Competition. Consolidation may be necessary but not sufficient. Providers are finding the competitive battleground now is patient/consumer experience. Understanding customer perspectives and delivering a positive experience have become paramount. Market competition is also undergoing scrutiny from regulators assessing whether consolidation is producing unfavorable pricing outcomes and merits antitrust investigation. Gallagher observes that "Physician consolidation will likely cause efficiencies and lower prices in the future, but we are yet to see any prices for medical care decrease because of it."34
Non-traditional market entrants. Expect 2019 to mirror 2018 when it comes to non-traditional players entering the healthcare space. Amazon, Apple and Google have all announced or introduced technology or service offerings. Walmart has telehealth centers in some of its stores and has recently partnered with the VA. Vertical mergers combining different types of players (Cigna-Express Scripts, CVS Health/Aetna, United Healthcare/DaVita Clinics) add another dimension to the picture. Some are calling this landscape a "new normal" that could siphon patients from traditional providers. These competitors bring formidable brand recognition, resources and technology innovation. Healthcare executives perceive Amazon as having the greatest disruptive potential. (Figure 4)35


Innovation Re-Aligning Payments and Revenue Cycle
Balancing the demands of consumerism with those of cash management and profitability is a challenging task. One analyst captured it, "Payment transformation requires knowing which levers to pull to manage patient risk, incentivize physician behavior, and reduce total cost of care."36 Key trends include:
Collections hurdles. HFMA estimates that almost 70% of patients did not pay the full balance of bills under $500.37 Some anticipate that by 2020, 95% of patients will not fully pay bills.38 An extensive office visit claims analysis found that a significant percentage of larger bills remained uncollected after five months, as shown in Figure 5.39 Inability to pay extends beyond organizational financial health to issues of equity and access. In fact, 40% of patients skipped a medical test in the past year due to cost.40
Digital payment innovations. To improve collections and satisfy new consumer preferences, banks and fintechs alike are reshaping the payments landscape with:

Frictionless payments. PayPal now has 250 million active users worldwide, and Apple Pay and Amazon Go are growing rapidly. Juniper Research predicts contactless inperson payments will total $2 trillion globally by 2020.41
Real-time payments (RTP). System inefficiencies and float volume are driving demand for lowcost RTP solutions. Various networks are arising to provide the requisite end-to-end payment processing and fund transfers.
New payment rails. Encouraged by European Union initiatives such as the Second Payment Services Directive (PSD2), entire new payment platforms are on the near-term horizon. Various entities will be able to process payments without reliance on intermediaries.

Credit card issuer struggles. Many medical bills are paid via credit cards. Issuers will be challenged in 2019 to maintain volume-based fee growth in the face of lower-fee solutions from nontraditional companies and customer resistance to paying for increasingly expensive card rewards programs. Look for issuers to continue growing their card portfolios to reap predictable interest income and to use technology to help organizations analyze patient data.


Conclusion
Substantial opportunity exists for those who can successfully navigate the six trends detailed in this report. Spanning the strategic, financial and clinical, these trends are far-reaching. CommerceHealthcare® will monitor developments throughout 2019 and stands ready to assist organizations in crafting effective solutions.


Resources
O'Brien, "U.S. Healthcare Spending Slowed to 3.9% in 2017," HealthLeadersMedia, December 6, 2018.
The Commonwealth Fund, Healthcare Spending in the United States and Other High-Income Countries, March 13, 2018.
A. Paavola, "S&P: 6 Key Healthcare Trends to Watch in 2019," Becker's Hospital Review, November 16, 2018.
M. Dalzell, "Why Bundled Payments are Poised to Take Off," Managed Care, November 25, 2018.
NEJM Catalyst, Transitioning Payment Models: Fee-for Service to Value-Based Care, November 2018.
M. Bryant, "Fitch sees stable 2019 for US healthcare despite financial pressures," HealthcareDive, November 30, 2018.
Paavola, Becker's Hospital Review.
Oliver Wyman, Waiting for Consumers: The Oliver Wyman 2018 Consumer Survey of U.S. Healthcare, 2018.
America's Health Insurance Plans, Health Savings Accounts and Consumer-Directed Health Plans Grow as Valuable Financial Planning Tools, April 2018.
American Hospital Association, 2019 Environmental Scan, December 2018.
J. O'Brien, "Payers Expect Revenue Growth In 2019, Few Prepared For It," HealthLeadersMedia, December 6, 2018.
IDC, FutureScape: Worldwide Health Industry 2019.
S. Livingston, "Small Businesses, Hospitals Eye Workplace Medical Clinics," Modern Healthcare, November 10, 2018.
Accenture Consulting, Show Me the Money, Infographic, October 2017.
Advisory Board Company, "Minimizing Bad Debt: Point-of-Service Collections," 2015.
American Hospital Association, Regulatory Overload, October 2017.
J. Comstock, "Big Changes are Coming to Medicare Reimbursement for Connected Health," Mobihealthnews, December 5, 2018.
Manatt, Phelps and Phillips, "CMS Promotes New 1332 Waiver Models," Manatt on Health, December 19, 2018.
PwC Health Research Institute, Medical Cost Trend: Behind the Numbers 2019, June 2018.
Kaiser Family Foundation, "Kaiser Health Tracking Poll – March 2018: Views on Prescription Drug Pricing and Medicare-for-all Proposals," March 23, 2018.
Healthcare Executive Group, "2019 HCEG Top 10," 2018.
T. Sullivan, "Digital Transformation: 3 Charts," HealthcareIT News, December 3, 2018.
R. Gardner et. al, "Physician stress and burnout: the impact of health information technology," Journal of the American Medical Informatics Association, December 5, 2018.
J. Cohen, "AI to Save Healthcare $150B by 2025," Becker's Hospital Review, September 17,2018.
IDC, FutureScape: Worldwide Health Industry 2019.
S. Morse, "Artificial Intelligence ROI is Coming Sooner than You Think," Healthcare Finance, November 16, 2018.
Society of Actuaries, 2018 Predictive Analytics in Healthcare Trend Forecast, 2018.
A. Perala "Healthcare Wearables Market to Exceed $10 Billion in 2022: ABI Research," MobileID World, September 1, 2017.
Tractica.
American Hospital Association, 2019 Environmental Scan, December 2018.
Center for Connected Medicine, Top of Mind for Top Health Systems 2019, November 2018.
American Hospital Association, Fast Facts on U.S. Hospitals, 2018.
T. Bannow, "Healthcare M&A Activity Expected to be Flat or Down in 2019," Modern Healthcare, November 5, 2018.
Gallagher, Future Forecast: Medical Trend Predictions for 2019.
Reaction Data, Healthcare Disruption: The Future of the Healthcare Market, 2018.
HealthLeaders CFO Exchange, Building a Performance-Driven Leadership Culture, October 2018.
I. MacDonald, "Study: 2 in 3 Patients Don't Pay Their Hospital Bills in Full," FierceHealthcare, June 26, 2017.
A. Stewart, "68% of Patients with Bills Under $500 Didn't Pay Full Balance," Becker's ASC, March 6, 2018.
Athenahealth, "The Higher the Patient Debt, the Harder It Is to Collect," blog post, March 28, 2018.
West Health Institute and NORC, "Issue Brief: Americans' View of Healthcare Costs, Coverage, and Policy," March 2018.
Bank News, "1-in-3 In-Store Payments May be Contactless by 2020," blog post, July 31, 2018.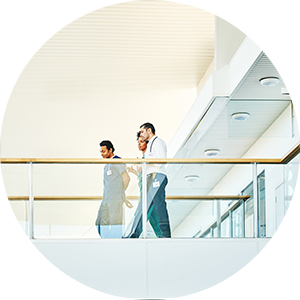 Healthcare Financial Trends for 2020
Thank you for reading our 2019 Healthcare Trends report. Interested in learning more about the trends expected to impact the healthcare industry in 2020? Check out our latest report.