Tools to effectively Measure Costs and Identify Solutions.
Rising deductibles and out-of-pocket responsibility on patients is straining ability for many to pay. An Advisory Board study a few years ago found that propensity to pay decreased steadily with increased deductibles, plunging from 68% for a $500 to $999 deductible to just 36% for levels over $5,000.1 With an average annual contribution of only $1,921, employee HSA plans are often of limited support.2 Healthcare's relentless cost focus places every financial initiative under the microscope, and providers are paying attention to patient payment plans, to examine the programs for increased efficiency and effectiveness. Providers seeking to support patients and mitigate bad debt have responded by offering interest-free extended payment options. Growth has been substantial, with many organizations building large portfolios of such loans, setting these providers on par with small community credit unions.


Payment plan challenges.
Although extended patient payment programs are critical to effective financial management and patient satisfaction, these plans carry significant risk and cost exposure. These plans place providers in a difficult position, pulling focus & resources towards long-term financial servicing, and away from patient care. Additionally, most organizations lack the financial resources and expertise to effectively manage these programs. Three significant operational challenges in this area include:
Inconsistent terms. Repayment terms can vary widely from patient to patient, resulting from a series of independent negotiations by your staff. One patient may make $20 monthly payments for a $1,000 bill, while another pays $50 for a $5,000 bill, with no objective rationale for the discrepancy.
Multiple payment plans per patient. Patients often incur new charges triggering new loans, refinancing or term extensions. The additional plans may also be generated by different billing systems, adding to the complexity of tracking.
Delinquent plans. As delinquencies grow, staff expends considerable time issuing dunning letters and performing other follow-up communication efforts. In addition to the cost incurred, your personnel frequently experience fatigue and frustration with the process that can impact patient relations.
Offering payment plans is vital to serving the provider's community and maintaining the organization's financial health. Healthcare leaders should ask themselves these three questions when considering or reviewing patient payment plans.
What is the true cost of time and resources to service payment plans?
Would a financial institution's deeper understanding of receivables, possibly reveal more effective ways to optimize value and limit risk while still treating patients fairly and without discrimination?
Is there a point at which a healthcare organization would lose its mission focus, due to the obligations of direct servicing a multi-million-dollar loan portfolio?


Measuring costs: a net present value perspective.
There are various ways to calculate the built-in cost of providing and servicing patient payment plans. Regardless of the calculation method, there is a real cost for an organization to delay payment on its receivables, often for years on some accounts while also incurring a servicing cost. As such, Organizations prefer to offer prompt pay discounts where possible to try to avoid the cost. One of the most effective and illuminating methods to determine the built-in costs of payment plans is using a net present value of cash flows (NPV). Sometimes called discounted cash flow analysis, this approach simply calculates the value in today's dollars of a future stream of incoming and outgoing cash flows. The tool enables organizations to quantify and compare the impact of extending monthly payments interest-free for varying lengths of time.

The three essential components of the calculation are:
Weighted Average Cost of Capital: An organization sets an expected return on invested capital, which is usually much higher than its cost to borrow money. The blend between desired return and borrowing cost is commonly called weighted average cost of capital (WACC). This rate is used to discount the cash flows received from payment plans to current dollars.
Servicing Cost: Collection costs consist of actual expenses associated with FTE servicing of the payment plans (phone calls, payment posting, etc.), credit/debit card acceptance fees, monthly statements, delinquent notices, NSF fees, bank processing fees, and other outlays. Note that, except for the card acceptance fees, these servicing costs generally do not vary based on the amount being collected. That means smaller balances are costlier on a percentage basis than larger ones. At $5 per account monthly service cost, a patient paying $20 per month is effectively receiving a 25% discount, while someone paying $50 is receiving 10%.
Bad Debt Rate: The bad debt rate is directly available by isolating and tracking defaults specifically for payment plans. However, most healthcare organizations lump payment plans together with all self-pay accounts, skewing the numbers. Payment plans should perform better as a rule than entire self-pay portfolio, since patients have verbally committed to the loan terms and payment amounts. A provider's demographics, service lines, service quality, repayment terms offered, and ability to service payment plans effectively will all affect bad debt rate.
It is also important to address that there is often a temptation for an organization to pass on some of the costs associated with payment plans to those utilizing the option. However, while the rationale for such might be justifiable, the reality is that for many patients, a provider passing on "hidden" costs in the form of plan fees or interest would create further financial hardship to those already in a tough situation.


Bringing it all together: an illustration.
Figure 1 shows how a simple calculator can be constructed using these variables. In the example, ABC Hospital has the following characteristics:
1,000 payment plans currently being serviced
$1,000 average balance
$5/month/account servicing cost
8% WACC as determined by the CFO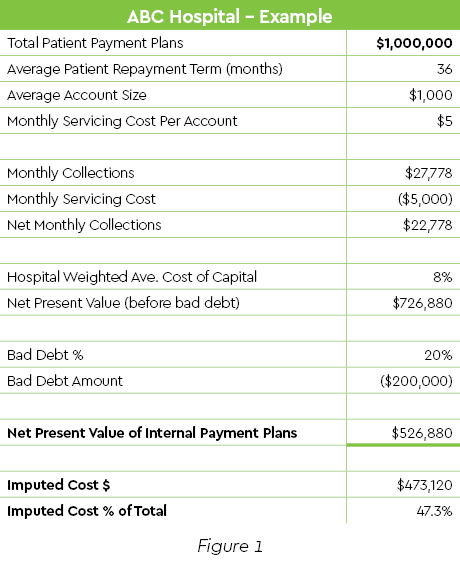 The present value calculation shows that, post-bad debt, this million-dollar portfolio carries an imputed cost of $473,000 for a 47.3% rate. While the 53% capture level likely substantially exceeds the receipts expected if the accounts went to bad debt collection, the cost still represents a significant target for savings.


Solutions.
Armed with this tool, ABC Hospital can evaluate ways to minimize its imputed cost and maximize collections. Two easy methods to improve results are to increase minimum payments or shorten payment terms. Figure 2 shows a sensitivity analysis on the latter option across a range of term lengths.

Figure 2 shows the imputed cost percentage for three-month plans just under 23%, rising substantially as the duration extends. In fact, at a 15-year repayment term, ABC would actually lose money on the loan portfolio.

Working with an organization's own metrics and assumptions, leaders can perform the analysis to model and evaluate various scenarios such as capping duration at two years.
Working with a financing company.
Another viable option is to turn to a portfolio acquisition organization, or a third-party patient financing institution (i.e. a bank loan program) to assume payment plans and self-pay A/R. Potential advantages include upfront funding of the patient charges to accelerate cash flow, increased overall collection rate, lower total servicing costs, reduced cost of capital, and patient satisfaction improvements.

What is the right mix of internally financed payment versus outsourced plans? For ABC Hospital, the case can be seen by returning to Figure 2. If a bank loan program can deliver the cash upfront at a 25% total imputed cost, then it would make sense to offer internal financing for up to six-month terms. The bank would be advantageous for all longer-term arrangements.


Conclusion.
Moving forward, patient payment plans will continue to increase in both volume and dollars. Healthcare organizations that have not done so already are in a great position to leverage the opportunity to finetune their current plan offers and optimize existing portfolios using available data and discounted cash flow analysis. The impact can be substantial.


Resources.