The Becker's Hospital Review Annual Meeting offers education on strategic, financial and operational challenges facing healthcare executives and leaders. CommerceHealthcare® sponsored and attended this year's conference, which delivered many insights and recommendations. This executive brief distills four of the noteworthy themes highlighted during the meeting.
Various Paths to Optimize the Revenue Cycle
Healthcare's dominant financial pressures have placed an intense spotlight on revenue cycle management (RCM). Several sessions explored strategies to optimization revenue cycle processes. In "How an Effective Compliance Program Can Improve the Revenue Cycle Process," Melissa Mitchell, Chief Compliance Officer at Sinai Health System, and Carlos Cruz, Senior Vice President and Chief Compliance Officer at Tri- City Medical Center, discussed the value of a "revenue integrity program." Their organizations faced a myriad of compliance issues that many hospitals encounter:
Lack of trust in leadership
Lack of communication
Fear of compliance actions
At Tri-City, the C-suite and board made a "renewed commitment to compliance and ethics" to successfully navigate the many mandates of fraud, waste and abuse laws and OIG audits. A centerpiece strategy was a revenue integrity program Cruz defined as, "Ensuring you earn everything you deserve, and not a penny more, in the most efficient fashion possible while focusing on the patient experience." A new Revenue Integrity Council was empowered to work across departments to:
Identify high-risk, systemic issues, including billing for high-frequency and high-volume services
Determine ownership of corrective actions
Develop risk assessments
Monitor and audit
Mitchell and Cruz closed with several lessons learned:
Take time to get the right people at the table
Quantify where possible (denial reductions, etc.)
Concentrate on high impact areas
Attend to Patient Payment and Financial Obligation
Patients are shouldering increasing cost burdens as health plan reimbursement models change. The implications are substantial for care affordability as well as organizational profitability. This theme was explored by Richard Madison, Vice President of Revenue Cycle at St. Luke's University Health Network. Madison considers technology to be critical to better patient financial management. In "St. Luke's Addresses Affordability with the Amazon Experience," he observed that the "financial experience book ends the patient journey," as illustrated in Figure 1. Too often, the experience falls short. Monthly payment plans – ubiquitous in other industries – are far from universal in healthcare. Moreover, traditional short-term plans often "do not address the high balances that make up 50% of bills." Madison stated that "9 in 10 patients say healthcare expenses require financing of more than 12 months."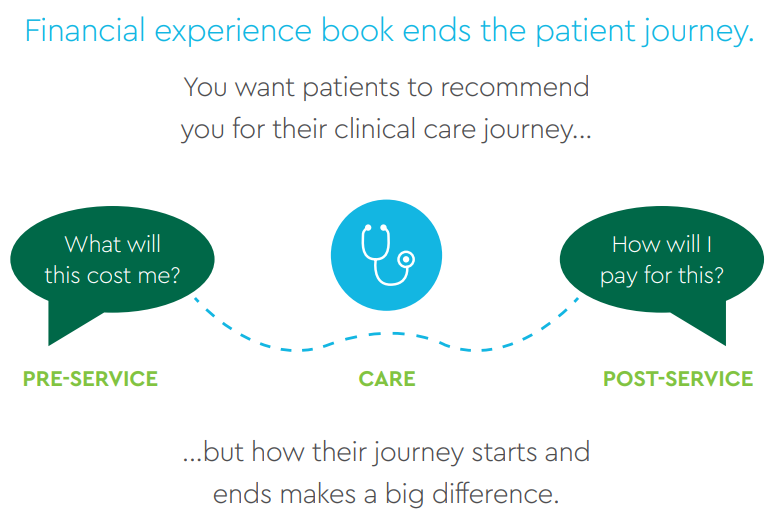 He advocated coordinated technology solutions:
Data analytics to develop predictive algorithms on payment and guide formulation of acceptable long-term payment options.
Proactive, online communication to inform patients.
Easy-to-access digital "self-service financial experiences" including consolidated billing and personalized information.
The Growing Need to Enhance Patient Experience
As patients increasingly approach healthcare similarly to other retail consumer experiences, satisfaction and engagement have moved from "nice to have" to essential. In the session "Raising HCAHPS Scores for Hospitals," Janice Benggio, Senior PMO Analyst at Broward Health, directed attention to the important CMS-mandated Hospital Consumer Assessment of Healthcare Providers and Systems. This survey represents "national, standardized, publicly-reported" patient perceptions on hospital care. Scores influence various Medicare incentive payments and form the basis for national hospital comparison rankings.
With so much on the line, analysis of HCAHPS scoring is a necessary precedent to its improvement. Benggio advised assessing scoring trends over time, investigating root causes for negative scores, determining fixes and benchmarking scores against two main competitor hospitals. A HCAHPS task force can then drive targeted action. Broward found "optimizing the transition to home recovery to be a winning strategy." Enhanced nurse-patient communications, clearly reinforced discharge instructions and other steps were taken with positive results. Consistent with many of the Becker's presentations, Benggio urged the technological path, specifically:
Secure messaging applications for caregivers
Issuing tablets to patients for online access and communications
Medication management software
In the presentation "How We Improved Our Patients' Satisfaction," Dr. Charles Ellis, Founder and Director of the Department of Service Excellence at University of Michigan Health System, conveyed the breadth of considerations in patient experience. He first described the levels of customer perceptions and reactions, each of which carries significant business ramifications (see Figure 2). He then detailed Michigan's "Service Excellence" programs to reduce patient wait times and more. The case for such initiatives includes improved revenue, positive word-of-mouth advertising, reduced likelihood of patients disputing charges and reduced malpractice risk. Most important, they "shift the atmosphere, the engagement, the culture, the ability to accomplish things."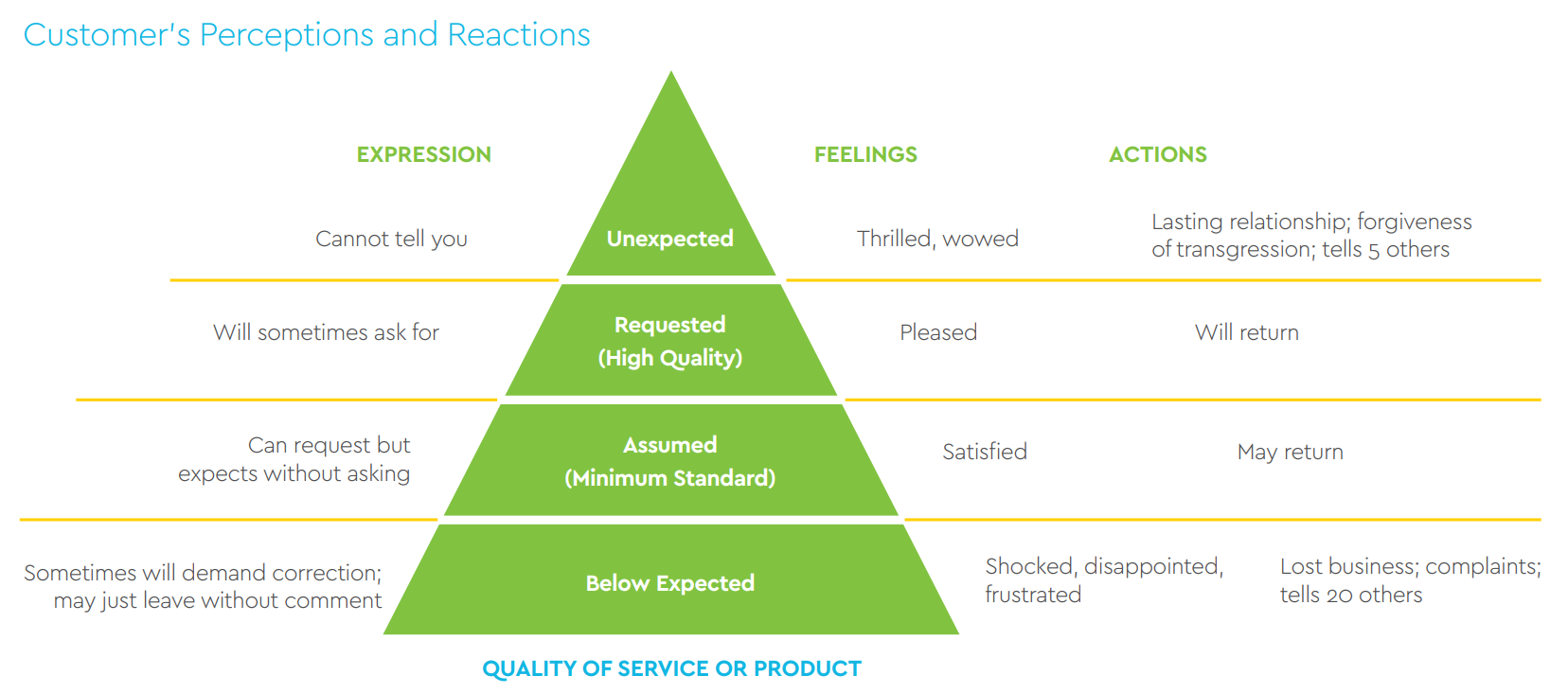 Driving Cost Reduction and Achieving Growth
The drive to achieve value-based care is placing enormous demands on organizations to reduce costs and find additional revenue sources. Various strategies were promoted at the conference. Michael Skehan, Chief Operating Officer at SCL Health, started the session "How to Develop and Implement a Robust Cost Reduction Plan" with his concluding evidence. SCL's FY2018 results featured $103 million operating income and a solid 3.8% margin. Arriving there required vigorous and disciplined "financial stewardship." The organization had established a goal of "year-over-year savings of $10 million for each of the past four years." Beyond the savings, a "lasting culture of financial improvement" was desired. The multifaceted effort encompassed regular brainstorming sessions, committees to focus on specific non-labor expenses and detailed scorecards.
Specificity is key. Savings should be identified at the budget line level, not in large buckets. Incentivizing staff was another important feature: awards of 5% of the 12-month savings for an idea were offered. Skehan concluded with some helpful advice:
Make sure people relationships are in place to support the effort
Outline a timeline for the stewardship roadmap
Generate early small wins
Use timely data
"Transition Support Program: Business Case for Patient Navigation" by Michael Swarzman, Vice President of System Growth, and Mervin Dino, Program Manager, both of Advocate Aurora Health, picked up the cost savings theme. They described their organization's economic environment. Operating income is under pressure, Advocate's Illinois market is "hyper-competitive," and the board has mandated a 3.5% return from operations. The big challenge is one faced by the entire industry, "Who pays for differentiated quality or effective utilization?" The speakers then presented a significant clinical initiative, namely, a Transition Support Program featuring:
Volunteers helping patients and families navigate the system
Combination of bedside visits and phone outreach
Support for social determinants such as transportation, immigration and insurance
The results have been impressive. Over a two-year period, 5,000 patients have been served, generating what Advocate calculates as $15 million in "downstream contribution margin" for 2018. The organization also believes the program has grown revenue to the tune of $26 million.
Conclusion
Meeting attendees gained valuable knowledge on revenue cycle optimization, patient financial obligation, enhancing patient experience and cost containment. The strategies offered in each area were actionable and could improve a healthcare providers chances for success.