Today's financially pressured healthcare environment has made cost containment a paramount strategy. While that trend continues unabated, many organizations are recognizing that cost-cutting is necessary but not sufficient. Revenue and associated cash flow growth are also essential. Numerous analysts have recently underscored this conclusion:
59% of providers report lower absolute operating cash flow … the highest percentage in five years."1
90% of hospital and health system executives indicated new revenue streams are an urgent priority.2
Sales growth ranked just ahead of cost reduction as a strategic priority as healthcare enters a phase of investment to transform.3
While it can appear a daunting task, there are multiple avenues to find new or additional income. This industry report focuses on the payables cycle to identify six growth opportunities along with the technology-enabled solutions required to unlock them.
1. Extract more revenue from current payment practices.
Your existing AP supply chain is the first place to look. Three time-tested actions that can generate revenue/cash growth are:
Delay supplier payments to earn additional return on funds.
Pay selected vendors early to take advantage of discounts and rebates.
Utilize a payment credit card to earn revenue sharing dollars.
Many organizations fail to pursue these proven strategies in diligent, sustained fashion. Each must be implemented thoughtfully, but to optimize short- and long-term returns, organizations need a robust AP automation infrastructure in place to ensure continuous execution. Ad hoc and manual processes will underperform.
2. Leverage a wider vendor network.
Maximum income generation and cash flow acceleration opportunities derive from inclusion of the largest possible set of vendors on the AP platform. Intensive onboarding of accounts is therefore crucial. That means not just larger volume accounts, but smaller ones as well. This comprehensive approach can generate considerable additional revenue share that would otherwise be missed. It is equally important to maintain continuous enrollment of your expanding vendor roster.
3. Multiply the points of automation.
While technology adoption has certainly grown, many aspects of the AP process remain manual – or partially automated at best. However, the path to reliable new revenue involves:
Applying automation to the many touchpoints in the workflow. (see Figure 1)
Devising the mix of payment types (card, ACH, etc.) that fits your needs, optimizes your income and drives AP efficiency.
Coordinating automated processes across all centers of excellence and service areas. As with many healthcare technologies, enterprise-level implementation generates the best returns. Many CommerceHealthcare® clients realize upwards of two to three times additional savings and earned revenue.
4. Concentrate on both rate and volume.
AP vendors often heavily promote their "headline" interest rates on payables cards, commercial cards and other products. Buyers are enticed to compare nominal rates in search of added "basis points." But optimizing your revenue share opportunity requires the other variable in the equation: transaction volume. Broad vendor participation in your AP automation program best positions you to earn maximum dollars from usage and contribute to overall revenue growth.
5. Extend payment automation to new business.
As they evolve and expand, organizations can find significant revenue/cash flow upside through seamless extension of high-return payment tools to new entities and initiatives. Providers with many suppliers and transactions are particularly good candidates for payment cards. Some examples include:
Outpatient, post-acute and other non-hospital services that are part of the health system.
Home health and community partnerships.
Construction projects.
New business ventures such as commercializing in-house services, licensing internally developed solutions and others.
6. Keep vendors on the program.
Vendor maintenance is as critical as enrollment. As their volume of business with you grows, some vendors become sensitive to higher total merchant fees. Your organization will experience revenue leakage if these vendors roll off your virtual card program. You can avoid this issue by seeking financial institutions whose capabilities include private networks and other creative options designed to keep suppliers in the fold and revenue producing.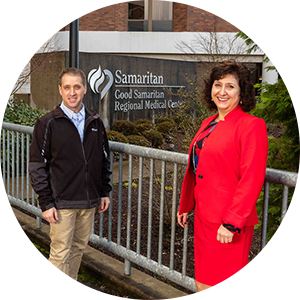 Case Study Snapshot
Samaritan Health Services of Oregon had a program in place with its primary bank and a credit card company. However, "those programs required a lot of work on our part, and the results were marginal," said Samaritan's accounting manager.
By moving to a CommerceHealthcare® AP Card and automation program, Samaritan increased its monthly revenue to $1.5 million, exceeding initial projections by 6 percent. "The revenue share alone pays the salaries of our four-person AP staff, transforming us from a cost center to a profit center."
To read Samaritan's story,
click here
.
The right solution.
Strong technology is foundational to realizing the growth vision we have outlined. CommerceHealthcare® counsels clients to identify the following six essential components of such a foundation.



A COMPLETE AP AUTOMATION PLATFORM
Limited single applications or collections of disparate tools are insufficient to the task. A unified platform – what we term a "hub" – is necessary. The software must manage all vendor information and assigned payment types (credit card, EFT, check), automate all payments (regular or one-time), generate accurate reconciliation files and accommodate workflows of your varied users.

INTEGRATION
Process automation and staff efficiency depend on seamless data exchange between the AP platform and your EHR, ERP, billing and other financial systems. Seek a technology vendor with demonstrated integration experience to prevent data silos.

A PROVEN PROCESS FOR SYSTEM IMPLEMENTATION, ROLLOUT AND ONGOING EXECUTION
This process should encompass a full upfront analysis of your AP spend, enrollment of vendors, establishment of your revenue share stream and ongoing surveillance and account management to ensure continuity of performance.

DEDICATED VENDOR ENROLLMENT
Typically, banks offering AP services will use personnel who are part of their treasury support functions. This approach risks diversion of attention and a less-than-extensive effort in enrolling vendors and managing the entire automation program. You benefit greatly from a financial partner who maintains separate groups devoted to this effort.

TIME-SAVING SUPPORT
Handling supplier issues that arise in an active card program can be a time-consuming task for your AP staff. The right automation solution provider supports your organization with the ability to interact directly with suppliers, fielding inquiries and helping resolve concerns promptly.

HIGHLY KNOWLEDGEABLE CONSULTANTS
Your account team should include experienced payments professionals who help ensure that new revenue opportunities will be identified. An important additional question: How many clients does your vendor's team cover? This number is frequently large, again compromising focus on your needs.
Conclusion
As in most other industries, the search for growth has gained prominence as a necessary complement to cost savings. New revenue sources and enhanced cash flows are waiting to be unlocked from your current financial supply chain. The six strategies delineated in this paper are significant and available to those who adopt the right comprehensive AP automation platform. CommerceHealthcare® stands ready to assist.
Resources
1. Moody's quoted in A. Kacik, "Not-for-Profit Hospitals' Cost-Cutting Isn't Keeping Up with Revenue Decline,"
Modern Healthcare
, August 29, 2018.
2. Kacik, "Urgent Need for New Revenue Streams will Shape Providers' Strategies,"
Modern Healthcare
, April 15, 2019.
3.
Deloitte's Second Biennial Global Cost Survey
, April 2019.