The healthcare industry is facing unprecedented financial challenges in response to the coronavirus pandemic. We sympathize with healthcare leaders who must manage through this complex and multifaceted financial situation. In this CommerceHealthcare® webinar, we examine supplier payment strategies and best practices that leading healthcare organizations are utilizing to successfully respond to COVID-19.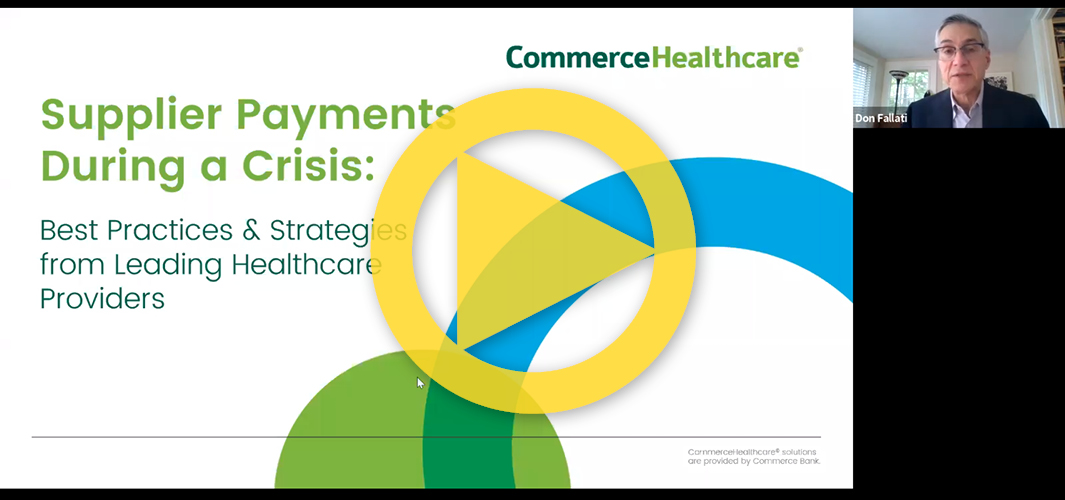 To request access to the webinar recording,
click here
.
Speakers
Vince Schmitz, Former SVP/CFO
Jason Turner, National Solution Consulting Manager
Joel Reddington, Healthcare Specialty Division Manager
This webinar will discuss:
Minimizing the impact of revenue loss as a result of COVID-19.
Enabling providers to transition towards a more flexible workflow and workforce with technology.
Reducing paper processes to improve back office and accounting efficiencies, but also foster a safer environment for patients and staff.
Steps healthcare leaders can take today to help prepare their organizations for future disruptions to supplier payment operations.
To request access to the webinar recording, click here.