The current healthcare environment is creating many different payment challenges for both providers and patients. Some of these challenges stem from increasing financial pressure on patients. Others are a result of patients struggling to understand insurance coverage and benefits. And others are a result of patients becoming confused or surprised by their medical bills after care, not knowing how much care will cost, when payments are due or even how to pay.

This webinar will explore payment strategies healthcare providers can utilize to better meet patients at their point of need during this challenging time.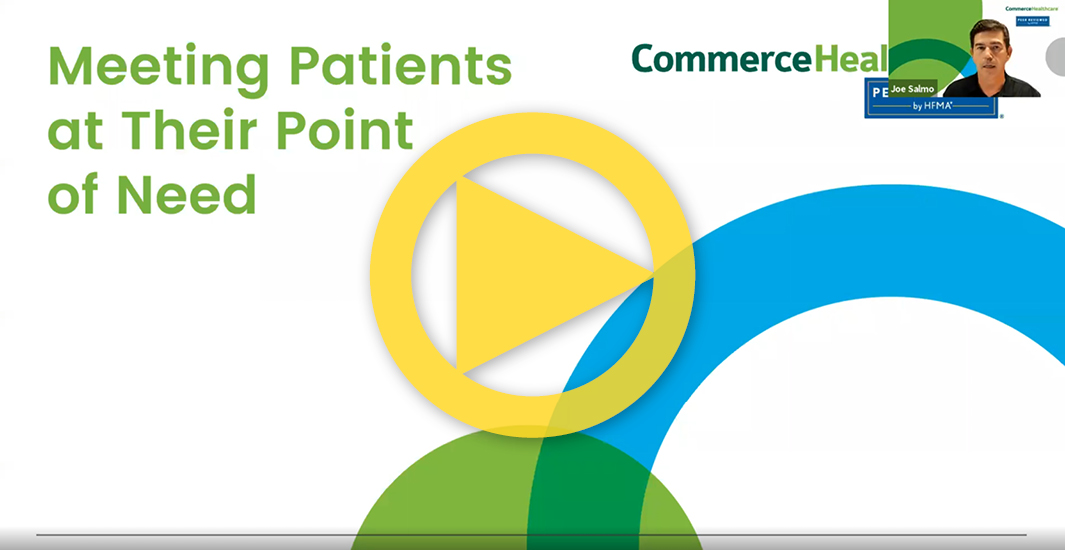 Read video transcript for Meeting Patients at their Point of Need. [PDF]


About this Webinar
Healthcare leaders from Bryan Health, located in Nebraska, and Monument Health, in South Dakota, will share their experiences, best practices and payment strategies in regards to engaging patients during pre-service, point-of-service and post-care. This webinar will explain:
Why estimates and pre-service patient communications are critical to a successful patient payment strategy.
How a patient payment strategy can positively impact patient collections and reduce bad debt.
How providers can leverage patient payment plans to drive increased patient satisfaction, while lowering AR.
Speakers
Joe Salmo, National Vice President of Patient Finance, CommerceHealthcare®
Valarie Johnston, Director of Patient Financial Services, Bryan Health
Jason C. Nesbit, Director of Patient Financial Services, Monument Health