Healthcare financial leaders are more optimistic about the ability to adjust to the changing business environment as we head into 2022. The year doesn't come without its challenges, though and we've identified the trends that are influencing health systems, hospitals and physician practices.
The below infographic highlights just four of the trends expected to trigger a fundamental shift across healthcare in 2022 and beyond. In all, CommerceHealthcare
®
identified 11 financial trends that will shape the healthcare industry. To learn more about these trends, check out the
2022 Healthcare Financial Trends Report
.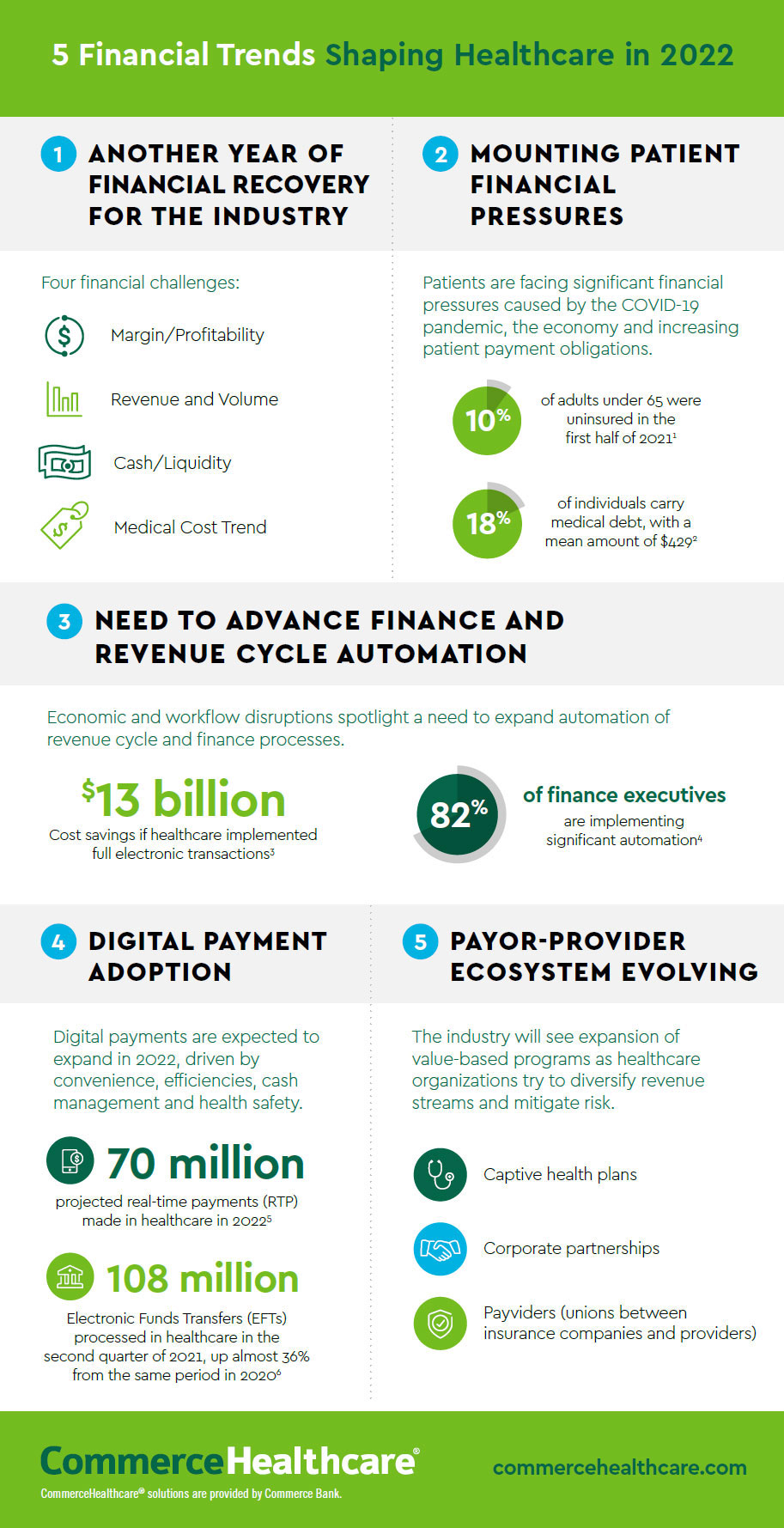 Disclosures:
S. Collins, G. Aboulafia, M. Gunja, "As the Pandemic Eases, What is the State of Health Care Coverage and Affordability in the U.S.? Findings from the Commonwealth Fund Health Care Coverage and COVID-19 Survey, March–June 2021," Commonwealth Fund Issue Briefs, July 2021.
N. Eddy, "Medical Debt Soars To $140 Billion and is Examined as a Social Determinant by JAMA," Healthcare Finance, July 21, 2021.
CAQH, 2020 CAQH Index, 2021.
Healthcare Financial Management Association, "Survey: Hospitals And Health Systems Prioritize Automation," August 2021.
PYMNTS.com, "Deep Dive: Giving Healthcare Payments a Real-Time Upgrade," blog post, November 20, 2019.
Nacha, 2Q 2021 ACH Network Volume Totals Infographic, 2021.