CommerceHealthcare® recently convened a group of healthcare finance leaders to discuss several important trends and challenges stemming from both COVID-19 and long-term industry forces. This forum provided a fresh view from the front lines in revenue cycle management. The session opened with an analysis of industry consolidation and regulatory issues, followed by a roundtable discussion focused on three trends: managing the remote workforce, directions in payer payments and consumer-centric strategies. This article summarizes valuable takeaways from each of these topics.
Industry Consolidation Trends Update
Nathan Bays of Citigroup® Capital Markets quantified the recent state of merger and acquisitions and related healthcare consolidation. After noting that 2020 activity levels did not decline as much as might have been expected, he presented several trends with illuminating supporting data.
Health system consolidation accelerating
The past 15 years have witnessed growth in non-profit health mega-systems, meaning those exceeding $10 billion in revenue. This segment jumped from one system in 2004 to 13 in 2019 (Figure 1). Substantial growth has also occurred among systems from $3 billion to $10 billion of revenue. The net effect of this consolidation is that the total number of systems continues to decline, falling from 250 to 184 over the 15-year period. Looking ahead, Bays expects strong merger and acquisition activity in the $3+ billion mid-market, since the under $1 billion system sector has already undergone extensive consolidation. Mergers between mega-systems are unlikely to be a dominant feature of the landscape as previous attempts have proven difficult to complete due to substantial governance and operational complexities.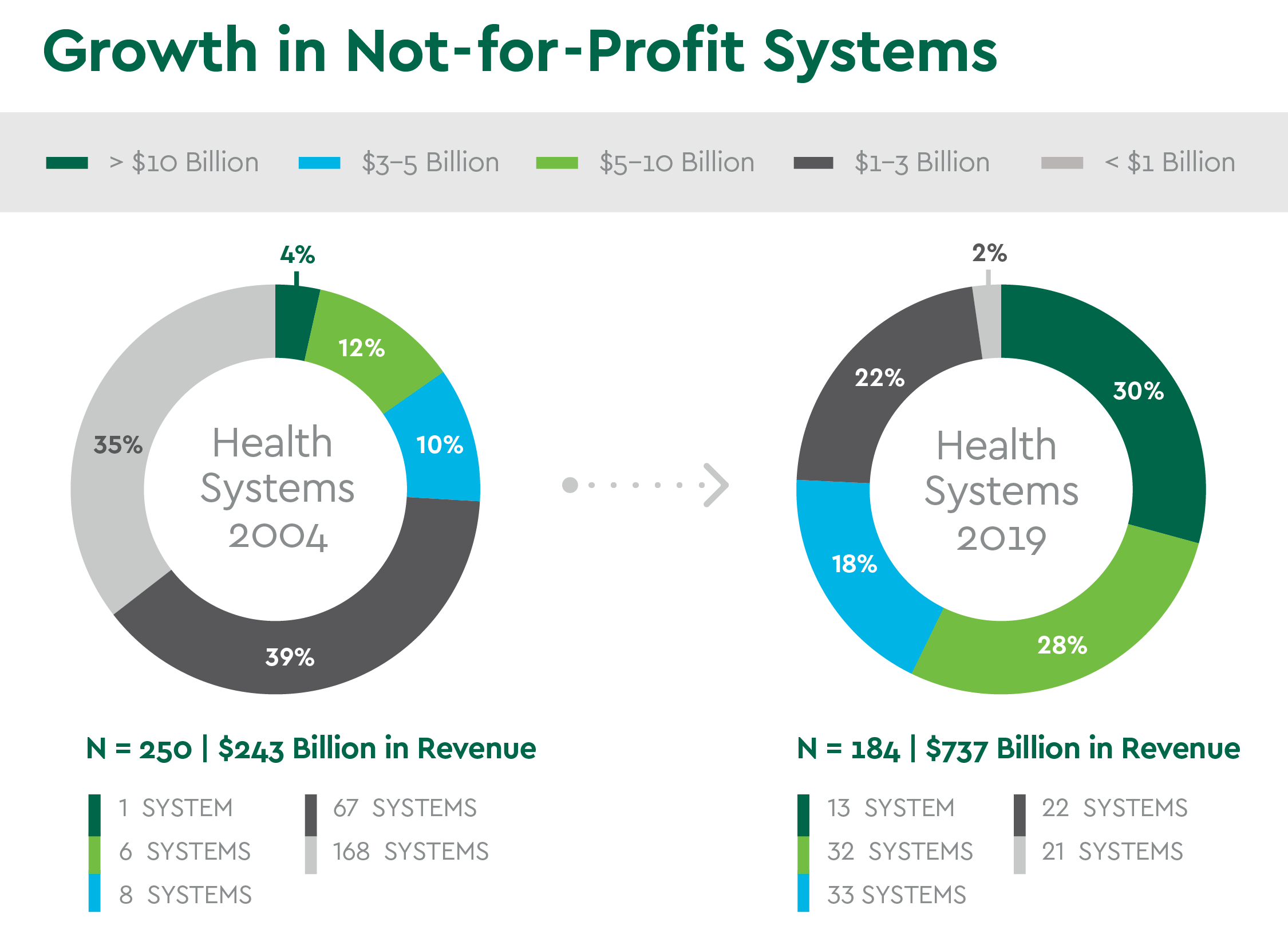 Source: Citigroup Capital Markets from various sources
View PDF of Figure 1 Chart[PDF]
Intense Focus on the Physician Market
Health systems will continue to acquire and partner with a variety of physician practices. The objective is not only to grow revenue, but also to achieve differentiated clinical models and expand capabilities that strengthen the ability of health systems to navigate the shift from fee for service to value-based reimbursement models. Two other drivers of demand in the physician market were noted:
Payer involvement. Insurers are acquiring physician practices to become vertically integrated. Bays observed that while Optum has been one of the most visible in moving to clinical services, nearly all payers now have separate services companies. Payers will likely continue to expand their competitive reach. For instance, CVS™ has stated intentions to bring its health hubs to rural areas where it already has a strong retail presence.
Public equity market growth. Another vibrant avenue for physician services expansion has been the public market, where Bays noted astounding activity levels. Over the past 15 months alone, seven companies have gone public or are in the process of doing so. Many of these physician groups, as well as several backed by venture capital, have garnered valuations of more than $1 billion. This influx of capital is meant to help the firms scale rapidly, and most aim to construct different payment models with payers and employers. Many will be competitors to health systems.
Legislative/Regulatory Scan
The opening session also examined legislative and regulatory issues of relevance to healthcare finance leaders.
Strong focus on healthcare cost
In recent years, the clear governmental push has been on reducing the overall cost of healthcare. This goal remains unfinished. Despite the Affordable Care Act and other major initiatives, cost as a percentage of GDP has still risen. Bending the cost curve is important, but Bays asserted that regulatory emphasis has recently been heavily directed to provider unit prices. He described two directions the price conversation has taken:
Price transparency regulations will continue to be promulgated and enforced. The bipartisan support in Congress for transparency virtually ensures that pressure on providers for full compliance will remain high.
Impact of industry consolidation. Bays noted that price is increasingly viewed through the lens of market concentration. Regulators are assessing whether prices are rising because of mergers and acquisitions, direct physician employment and vertical integration. The perception is that prices are rising too quickly, pushed upward by fewer, more powerful players in many geographic markets. Expect this scrutiny to continue.
Proposed stimulus plans
Bays also offered a provider perspective on two national stimulus proposals that have been put forward, the American Jobs Plan and the American Families Plan. Key observations included:
The proposals contain less funding for providers than may have been anticipated, and certainly lower than the level of emergency relief during the height of the pandemic. On the other hand, some added funding is likely to flow to providers from states channeling federal stimulus monies through a variety of programs and subsidies.
The American Jobs Plan has a major emphasis on promoting home-based care. A massive $400 billion infusion into that sector has been implemented. Related proposals seek to foster unionization among home care workers and to expand long-term care support under Medicaid.
A relevant element of the American Families Plan would be extended health insurance tax credits for individuals. Bays suggested that this move could achieve two goals, increasing access to insurance and providing better insurance coverage. Both developments should be good for the income of hospitals, health systems and physician practices.
Remote Workforce Management
The Forum's roundtable segment began with a discussion of the ramifications of the past year's surge in remote work for most financial staffs. Takeaways from the pandemic experience were offered and the group assessed future directions.
Lessons from the remote work experience
The panelists were unanimous that their organizations have been effectively managing work from home, though there were some differences in opinion regarding the productivity impact. One estimated output at 90% of normal levels. Another found little to no deterioration, largely attributable to the extensive automation in place throughout the revenue cycle, particularly electronic claims and payments. This automation considerably eased the remote workflow challenges. Additional lessons identified included:
Loss of group interaction. Several participants agreed that the lack of face-to-face interaction among staff reduced the benefits that accrue from team dynamics. One panelist lamented the loss of person-to-person conversations and the benefit of sharing experiences and knowledge. Given healthcare's need to build greater agility and collaboration, restoring the benefits of these group interactions is an important consideration in planning for possible permanent hybrid workforces.
Telehealth. Technology played a huge role in enabling remote care during the pandemic. Panelists indicated that telehealth services have declined in usage from the peak, but see this mode continuing to grow. One panelist underscored the strength of the telehealth software in facilitating scheduling and pre-service financial actions, enabling smooth handling by the access staff.
Positive employee engagement. Some of the leaders at the forum attributed another benefit to work from home — an increase in positive employee engagement. Many individuals have valued the fact that their employers offered the safety and flexibility of remote work. Some forum participants also asserted that the remote work option has decreased turnover and helped recruiting.
Future directions for a remote workforce
Lively forum interaction regarding remote workforce management in the wake of the pandemic generated a number of conclusions and recommendations:
Identify specific roles that are the best fit for remote work.
Use analytics. Make data-driven decisions on remote roles. Equally important, data analytics can drive development of metrics to guide employee expectations.
Develop a remote work "contract." A statement detailing policies on working from home that is signed by the employee fosters clarity about mutual expectations.
Tie to performance. One panelist urged reinforcing that remote work is a privilege that is maintained through performance. Some have instituted monthly audits with a requirement to achieve at least 90% of productivity and other metrics to remain in remote status.
Ensure core IT system functionality. One forum participant described how his health system has been able to institute permanent work from home for 120 employees serving a group of 800 physicians. The key to success has been the fact that the central electronic health records and financial management systems possess mature functionality to support the model. The workforce has responded with 20% productivity growth. Conversely, the inpatient side of the same health system has found remote work more challenging due to IT system limitations.
Standardize needed equipment. The group's consensus was that best practice dictates creating uniform bundles of required hardware and software to give to employees. This step provides essential consistency and security. Some cited challenges associated with communications infrastructure for rural area employees.
Evaluate outsourcing economics. An intriguing concept put forward in the discussion was whether remote financial work might alter the cost equation relative to outsourcing. It is possible that a health system could retain at least some of its work in-house through satisfied remote employees at a reasonably competitive cost level to outsourcing. This concept will be interesting to watch.
Prepare for possible salary inflation. A positive note conveyed in the discussion was that remote work boosts recruiting since employees can be located practically anywhere. However, one participant raised the specter of wage pressures, noting that remote workers could favor higher wage areas of the country, driving up compensation for all.
Payer Payments: Trends and Strategies
An exchange among panelists and audience revealed four strategic insights on the current state of insurance reimbursement:
Continuing difficulty determining patient coverages
The pandemic created entirely new reimbursement codes and polices, especially related to telehealth. Determining exactly what is covered by the various plans for each patient remains challenging. Delayed care access is a result for some. Panelists noted that workflow complexity has been exacerbated by the frequent pace of communications regarding reimbursement policy changes conveyed through multiple channels (associations, media, payers). It is a critical issue, impacting both productivity and patient satisfaction.
Greater scrutiny of payments
Several people suggested that payments have been placed under a microscope given all the reimbursement changes. On one hand, providers have ramped up scrutiny of patient billing to ensure proper accounting for government and payer COVID-19 funds available. From the payer side, record requests to providers have increased. While this trend pre-dated the pandemic, the feeling among participants was that the pandemic triggered a further rise in volume. One noted that the requests are adding to the administrative burden of getting claims resolved.
Pressure on receivables
Forum feedback indicated that payer payments have slowed since fall 2020. Aged receivables have correspondingly been on the rise for many. All participants felt they were making progress on this front but anticipate elevated receivables to persist for some time.
Revenue integrity positions in ascendancy
Changes wrought by the pandemic have fueled another trend in recent years — the creation of specific revenue integrity roles. Forum attendees weighed in on how they are currently defining the functional scope of these positions:
Staying abreast of changing regulations, reimbursement policies/codes and other factors that directly influence accurate billing. One panelist commented on the substantial volume of reimbursement changes in therapy alone.
Being the point person on meeting price transparency regulations and establishing best-practice external communications on costs. Some participants said they have assigned management of the transparency content on the health system's website to the integrity role.
Supporting patient access staff with information about denials trends and other reimbursement issues. One leader believes that such direct interaction with the staff produces superior results to prevalent email communications, which may not be read or fully understood by staff.
Clearly today's revenue integrity department touches many aspects of insurance payments workflows and outcomes. It is an expansive portfolio that one panelist believes is too much to add to existing staff workload without risking productivity decline. Hence the creation of a separate role. Another leader noted that the revenue integrity work has grown to an extent that more specialists have been added, with each individual assigned to monitor two major insurers.
Consumer-Centric Financial Strategies
The final subject of the day addressed the question of what actions providers are foregrounding in patient financial experience to meet healthcare's rising demand for consumer-friendly interactions. Two dominant strategies emerged from the conversation:
Better communication of care options
CommerceHealthcare® has written extensively about heavy provider focus on reversing revenue declines from the COVID-19 crisis as well as generating consistent new top-line growth over the long run. Forum participants clearly indicated pursuit of these aims. One key strategy discussed that intersects well with consumer-centricity is lowering convenience or affordability barriers by proactively informing patients about alternatives to traditional inpatient care.
Telehealth certainly represents a growing option. Walking patients through the process of scheduling and conducting telehealth encounters is important to adoption. This new mode of delivery appears poised to be an important component of the revenue mix in years to come.
Another strategy points some patients to the health system's outpatient centers, which may be more conveniently located for a patient or provide a less expensive alternative. One panelist commented that many consumers are not aware that these choices exist. Promoting this path can prevent revenue leakage, keep scheduled care on track and grow consumer awareness for future care.
Upfront cost estimates and patient financing
Nearly all participants indicated that they are providing some level of pre-service estimation of charges. Some said they are using technology to make the process more effective overall and for more precise estimating of surgeries and other procedures where cost information is often not uniform.
Several forum members suggested that engagement is further enhanced when pre-service estimates are coupled with immediate patient financial counseling. A very consumer-friendly approach involves broadening the range of financing options available to help patients manage their cost of care. Doing so helps customize to individual needs and ensure that the maximum number of patients obtain the financial help they need.
Conclusion
The Leadership Revenue Cycle Forum proved illuminating and met its aim of providing professional networking and knowledge sharing. The insights summarized in this article were both valuable and timely. As Rick Heise, Senior Vice President, Specialty Healthcare Services at CommerceHealthcare® noted, this type of forum feedback also helps guide the bank's ongoing substantial investments in healthcare payment automation solutions and services. He concluded with a call for future forums to continue the dialogue on important issues in healthcare payments.
To learn more
CommerceHealthcare® develops long-term banking relationships with healthcare providers through automated payment solutions, patient financing, lending, investing and asset management. To deliver the best patient care, health systems, hospitals and physician practices need financial results, not promises. Tailored, ROI-based solutions enable providers to find cost savings, improve cash flow and leverage new opportunities in everyday processes. From remittance processing to patient loan programs, cash flow to money management strategies, CommerceHealthcare® helps providers improve processes, increase margin and reduce financial risk. CommerceHealthcare® solutions are provided by Commerce Bank. To learn more, call 833.582.3021 or visit commercehealthcare.com.
Presenters and Panelists:
Nathan Bays, Citigroup Capital Markets
Laura Hoover, Mary Free Bed
Steve Keppner, Hannibal Regional Healthcare System