Overview
In the Fall of 2021, CommerceHealthcare® sponsored a focused survey conducted by the Health Management Academy (HMA), an organization for executives from the nation's top health systems and leading companies. The HMA survey involved both quantitative polling and in-depth telephone interviews to explore current issues in patient financial experience.
Key characteristics of the respondent profile included:
Finance and revenue cycle management (RCM) executives from director to C-level.
Representation from 13 unique health systems that own or operate a total of 196 hospitals.
Aggregate volume of 1.6 million inpatient and 32 million outpatient admissions annually.
Average operating revenue of $5.7 billion, with 38% from large health systems (greater than $6 billion), 15% medium ($4-6 billion), and 46% small (under $4 billion).
Combining the findings of this survey with relevant independent data, CommerceHealthcare® has produced a three-part series of briefs titled Perspectives on Patient Financial Experience. This first report overviews the rising patient obligation, its impact on health system revenue, crucial implications for patient financial experience and several recommendations to address the issues.
Rising patient obligation
Consumers continue to shoulder an increasing share of healthcare costs. Rising patient financial responsibilities have been well documented. One 2021 survey found that 48% of American households incurred out-of-pocket healthcare expenses over the previous twelve months, with 48% spending under $500, 30% between $500 and $1,500, and 17% more than $1,500.1 Personal outlays are projected to grow 9.9% annually through 2026, bringing total spending to almost $800 billion.2
Employer health plan data also corroborates the growth in consumer obligation. Employee premium contributions and deductibles have been on an upward climb for many years and represented 11.6% of 2020 median household income, up from 9.1% a decade earlier.3 Participation in High Deductible Health Plans is also rising steadily, with recent analysis showing 40% employee enrollment in such plans (Figure 1).4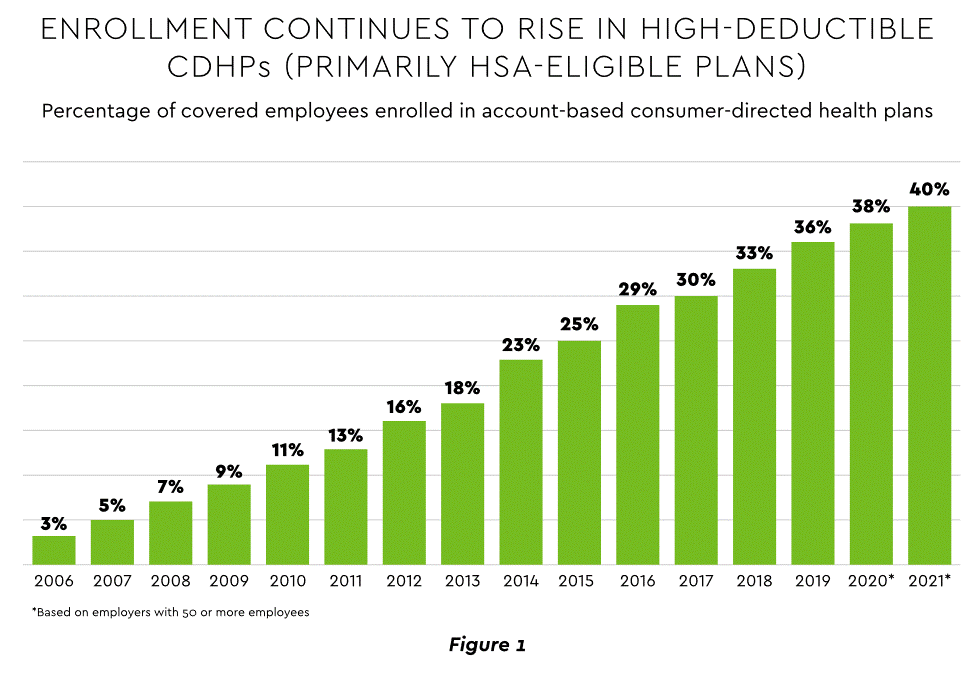 View PDF of Figure 1 chart[PDF]
Self-pay a significant component of health system revenue
One result of these trends is that patient financial responsibility is becoming an ever-larger component of the revenue mix of health systems, hospitals and practices. The HMA survey quantified the anticipated impact (Figure 2).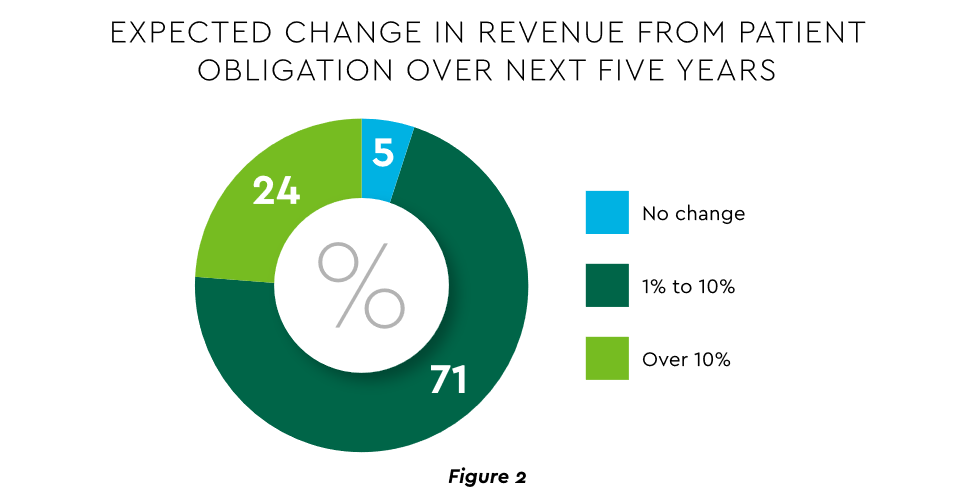 View PDF of Figure 2 chart[PDF]
The fact that nearly one quarter of health systems may see over 10% growth of revenue from patient payments underscores the extent of the impact. The HMA analysis also posits that many of the respondents may not yet be fully appreciating the momentum of the self-pay movement. Moreover, even modest percentages quickly generate significant dollar volumes. For example, 5% self-pay equates to $50 million on each $1 billion of revenue.
Revenue implications
Increasing patient financial obligation carries a number of implications for revenue cycle management. Among the most consequential:
Potential deferred or lost revenue. Financial constraints can prompt patients to delay or forgo elective procedures, treatments and medications. A new Gallup consumer survey shed light on the level of potential risk exposure. Its Healthcare Affordability Index, based on respondent indications of cost-induced avoidance of medical treatments and medications, divides the population into three categories: Cost Secure (56%), Cost Insecure (36%), and Cost Desperate (8%).5 Nearly half of consumers in precarious financial condition is a concern.
Heightened payment variability. In general, patient payments exhibit less consistency and reliability than those from insurance companies. A Commonwealth Fund analysis found that over one-third of patients encounter difficulties paying medical bills, take on medical debt or encounter other billing problems. These circumstances occur with both insured and uninsured individuals.6
Greater patient sensitivity to the entire financial experience. Patients are adopting a more "consumerist" posture toward their healthcare, seeking greater choice and convenience and showing willingness to consider alternative providers. Increased self-pay only heightens their attention to comparative experiences. As a result, there is elevated risk of revenue leakage to competitors that include a growing legion of new retail providers.
Recommendations
Optimizing the patient financial experience has become an imperative for providers. The HMA survey spotlighted several recommended strategies for RCM leadership focus:
Plan for greater contribution to revenue mix from patient obligation. The various studies and forecasts suggest that the "patient as payer" movement is likely to accelerate for the foreseeable future. Current health system projections may be too low. Running various scenarios can help assess impacts on the provider's finances.
Pursue patient financial experience as a revenue strategy. This suggestion was advanced by the HMA study based on evidence that leading health systems are adopting a view of the financial experience that prioritizes its linkage to revenue.
Create an integrated leadership team to drive patient financial experience. A corollary to the previous strategy is that those directly responsible for revenue generation and consumer marketing should play a central role. The HMA report urges "alignment across finance and consumer executives in order to develop a system-level strategy." Evidence that this approach is taking hold within major health systems can be seen in Figure 3, showing revenue and marketing titles in the ascendancy in experience management. While traditional financial leaders will continue to be important, this expanded team offers the kind of broader perspectives and consumer-centric mindset needed today.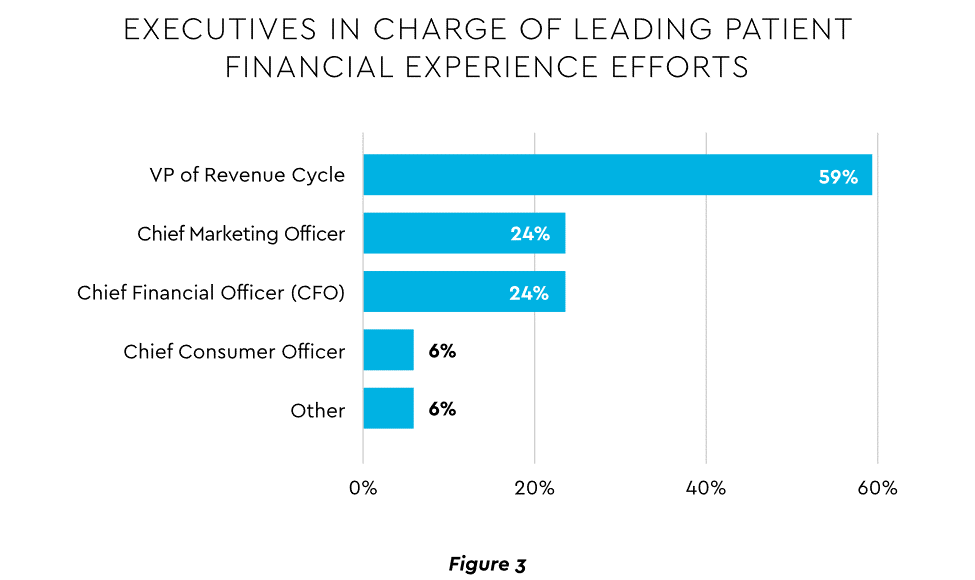 View PDF of Figure 3 chart[PDF]
Expand the patient financing portfolio. One of the most impactful steps to alleviate pressures from rising self-pay is to expand the scope of patient financing programs. Particularly valuable for patients are low- or no-interest lines of credit for terms of up to five years. Programs that enable financing to be issued with no credit check and offer both online and phone processing remove friction for patients and administrators alike. The HMA survey found that 47% of patients use online enrollment for payment plans.

In addition to flexible terms that meet varied individual needs, another experience-boosting feature is extending financing prior to care service. Providers are increasingly giving patients upfront out-of-pocket cost estimates. According to one study, almost half of patients obtained an estimate and most carried through with the encounter (Figure 4).7

Issuing credit lines based on estimates lends peace of mind to patients at a particularly stressful point. Pre-service financing can also be coupled with convenient electronic refunds when needed, offering patients speedy options such as direct deposit and direct-to-debit card transactions.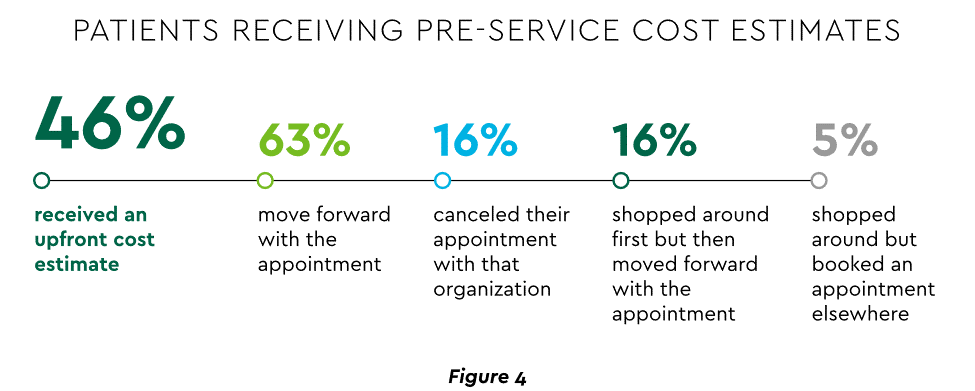 View PDF of Figure 4 chart[PDF]
Conclusion
Attention must clearly be devoted to the critical interplay of patient financial obligation, revenue and financial experience. The HMA survey captures the rising self-pay trends and proposes actionable recommendations that are borne out by CommerceHealthcare® experience. Additional reports in this series will delve further into successful approaches to promoting and growing patient financing as a central patient experience strategy.
CommerceHealthcare® solutions are provided by Commerce Bank.
Disclosures:
Aflac, 2021 Aflac Health Care Issues Survey, December 2, 2021.
Kalorama, Out-of-Pocket Healthcare Expenditures in the United States, 5th Edition, July 12, 2021.
Commonwealth Fund, State Trends in Employer Premiums and Deductibles, 2010–2020 Data Brief, January 2022.
Mercer, 2021 National Survey of Employer-Sponsored Health Plans, December 13, 2021.
D. Witters, "Benchmarking Healthcare Affordability and Perceived Value," Gallup, blog post, March 31, 2022.
Commonwealth Fund, Health Care Coverage and COVID-19 Survey, March–June 2021.
Waystar, Consumer Attitudes Toward Medical Bills and the Price Transparency Rule, 2021.